WorldSkills Flag Returns to the UAE as part of its global tour
The WorldSkills Flag Relay was in Abu Dhabi in UAE, the place where the Flag Relay initially started less than a year ago.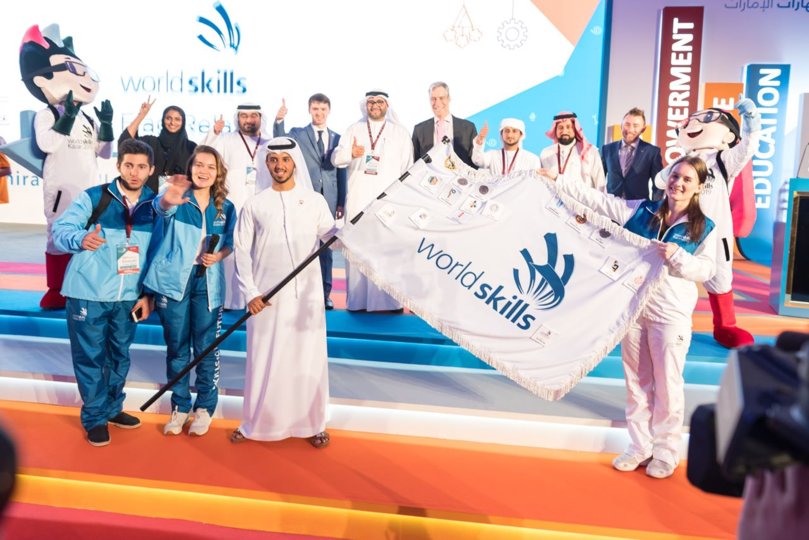 On April 26, the WorldSkills Flag Relay was in Abu Dhabi, UAE, the city where the Flag Relay  initially started and the WorldSkills flag was officially handed over from UAE to Russian representatives.
This week the official vlog was released featuring the WorldSkills Flag relay stop at the Closing Ceremony of EmiratesSkills National Competition. 
The Flag Relay started began its journey at the Closing Ceremony of WorldSkills Abu Dhabi 2017.  The next day the flag arrived in Sochi, Russia, before it was then launched into space and kept on board the International Space Station for more than two months.
The international leg of the WorldSkills Flag Relay started on March 12 in Madrid, Spain, where international skills competitions began in 1950. The event in Abu Dhabi at ADNEC, the main venue of WorldSkills Abu Dhabi 2017, was the sixth stop of the international section of the flag relay. 
After the international phase of the relay is complete, the flag will travel across Russia, including the Republic of Tatarstan, before being delivered to Kazan during the Opening Ceremony of WorldSkills Kazan 2019.
Watch the flag cross the world in vlog series produced by WorldSkills Kazan 2019.